Diamond Recognition Ceremony Kali Pertama Dalam Sejarah Public Gold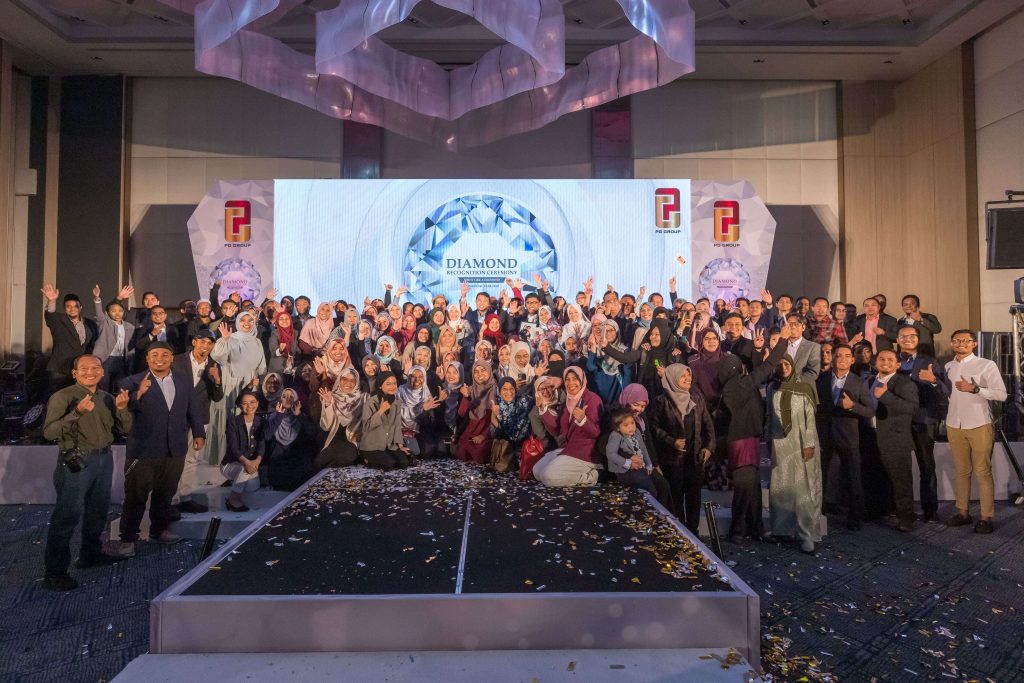 "Hadir lihat kejayaan orang lain untuk cipta kejayaan sendiri, lagi jelas nampak lagi mudah dicapai"
Ini yang diajar kepada semua G100 Dealers PGBO oleh mentor kami En. Mohd Zulkifli Shafie.
It's all make sense since we are all in childhood lagi sebenarnya.
Waktu sekolah bila ada Anugerah Pelajar Cemerlang (APC) biasanya guru guru akan atur semua pelajar untuk tengok sekali.
Sekolah yang 'advance' akan panggil ibu bapa pelajar join sekali.
Kalau boleh panggil semua makcik kantin, pak guard dan tukang kebun join sekali. Jadikan acara ni sangat meriah dan gilang gemilang.
"Ini untuk apa ni ?"
"Kenapa aku kena join sekali ?"
Jawapannya ialah untuk kita cipta impian kejayaan kita sendiri kelak. Acara sebegini akan menghenyak ego dan emosi kita untuk capai seperti mereka.
DIAMOND RECOGNITION CEREMONY
14 JAN 2023 #Sunday
Hilton Hotel Kuala Lumpur
Hari Sabtu 14 Januari 2023 bertempat di Hilton Hotel KL, kami meraikan kejayaan top achievers leaders di dalam bisnes Public Gold.
Mahaguru Emas Malaysia , En Syukor Hashim & Jonaina Nordin mencatat rekod sebagai dealer pertama yang capai Diamond 6 Star FMD.
"Hadir lihat kejayaan orang lain, untuk cipta kejayaan sendiri" – Mentor G100 Network
(En Mohd Zulkfili Shafie)
1. Gembira dan meraikan kejayaan orang lain.
2. Visualize kejayaan yang kita nak kecapi seperti yang mereka kecapi.
3. Dapat ber 'associates' dengan orang yang punya sama jalan dengan kita dan bertukar pendapat idea.
It's all just make sense same as dalam kehidupan career hakiki dan juga bisnes.
Tahniah pada top achievers dari G100 Network ;
1. JADE TRIPLE STAR FMD
Dr Mohd Syafiq Bin Roslan @ Ruslan & Dr Suhailah Binti Zaharudin
2. PEARL TRIPLE STAR FMD
Tuan Syarifuddin Bin Mohd Jamil (SJ) & Pn Syamimi Nur Aqila Bt Awalludin
"YOUR ULTIMATE FINANCIAL FREEDOM
BEGINS HERE"
If You Want To Walk Fast, Walk Alone If You Want To Walk Far, Walk Together
#PGG100Network
#NextMohdZulkifli
#MisiLahirkan1000MasterDealerBy2024

Kredit penulisan asal: Tuan Mos Azzadi Mahfoz.
Kredit penulis artikel ini: Tuan Hafiz Shafie.